Cirrus Research
/
careers

Careers at Cirrus Research
What does a career at Cirrus Research sound like?
As a world-leading innovator of scientific measurement instruments, we're always on the lookout for amazing and talented individuals to join our teams across all areas of the business, whether that's sales, marketing, research and development, operations, finance, or engineering.

If you're looking to take your career to the next level in a fast-paced and growing business, get in touch and let us know by using the form below or by emailing your CV to careers@cirrusresearch.com
Employee benefits:
31 days paid holiday (rising to 33 in 2023)

Health cash plan – support with everyday medical costs eg optical, dental etc

Discounts through MyPerks on shopping, days out, cinema tickets etc

Death in Service cover – 3 x salary as standard

Support for training and professional development

Employee-managed social club events

Staff recognition awards

Free on-site car parking

On-site kitchen with free fruit and refreshments

Strong green credentials – we are working towards Net Zero.
At Cirrus Research we make world-leading sound measurement equipment, so we know what you want to hear!
We are interested in recruiting for the following roles:
- Inbound sales
- Student Engineer
- Marketing Intern (French speaking)
- IT Intern
- Technical / Quality Engineer

If one of the above roles interests you, please submit a copy of your CV to: careers@cirrusresearch.com
Discover more about a career with Cirrus Research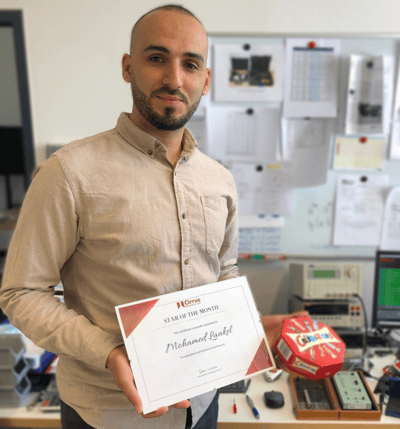 Here's more on our role protecting people's hearing and the environment